The development of e-commerce also needs the support of related industries such as logistics. "Double Festival" holiday online shopping is in full swing, the reporter found that as the manufacturing center of the Pearl River Delta, all kinds of enterprises have turned their eyes to e-commerce, the sales of a variety of products ranked first in online shopping.
2012 is destined to be the key year for e-commerce. On August 15th, the price war launched by Jingdong Mall to Suning and Gome attracted the attention of the national media. The integration of various domestic e-commerce is accelerating. In this ultra-long golden week, online shopping is even more raging.
As the manufacturing center of the Pearl River Delta, various companies have long turned their attention to the e-commerce cake. During the Golden Week interview, the reporter learned that the sales of various products of various enterprises in the Pearl River Delta ranked first in online shopping. The manufacturing center is also the center of e-commerce.
Traditional industries still lack "e-commerce" talents
Industry insiders told reporters that the traditional manufacturing industry in the Pearl River Delta is experiencing an outbreak of electricity. "Electronics business has developed too fast, and the corresponding talents have not kept up." Liu Mingming, secretary general of Foshan E-Commerce Association, believes that local R&D and promotion The lack of e-commerce talents such as customer service, logistics, and operations has constrained the development of the industry. For this, Dongguan Mr. Shan Ren, who specializes in network marketing promotion and service, has the same view: "E-commerce is the trend of future network marketing. Network marketing mainly focuses on product features, packaging and text promotion. These are all smart marketing methods, and traditional manufacturing lacks such talent."
Compared with Dongguan, Foshan and Zhongshan, Shenzhen, as a city with relatively developed Internet industry, has obvious talent advantages. "As a national e-commerce demonstration city, the Shenzhen Municipal Government has given the network business a relaxed business scope and many preferential support policies. On the other hand, Shenzhen's e-commerce and IT industry talents are highly concentrated." Tencent E-commerce Holdings Song Wei, deputy general manager of the company, told reporters: "Compared with other regions, the characteristics of Shenzhen merchants are mainly because they have a high level of marketing, operation and management of e-commerce, especially the use of information technology to accurately understand consumption. The needs and preferences of the people."
Song Wei said that QQ online shopping will cooperate with relevant government departments to undertake the education, guidance and training of local traditional enterprises to network transformation. "We have used the e-commerce experience accumulated over the past six years to help traditional businesses learn to do business on the Internet and improve their IT capabilities and e-commerce levels."
Scanning around
Foshan: Two merchants become Taobao's "transaction amount" first in the year
In the past, many traditional companies began to turn their attention to the e-commerce cake after they had a certain scale in physical factories and stores. However, in the manufacturing city of Foshan, the leader in e-commerce has subverted this development path. They took a fancy to the well-known "E-commerce" prospects of Foshan Ceramics and Shunde Furniture, and started their business directly from the Internet to take advantage of local products. Nowadays, they still stick to the position of online direct sales. The offline experience store and exhibition hall are only used as an auxiliary means of marketing.
In the past 2011, "Linshi Wood Industry" and "Peacock Mosaic", which were launched on Taobao Mall, all achieved good results in annual sales.
Shunde is the important town of furniture industry in Guangdong and even the whole country. There are scattered furniture stores here, and there are a large number of production factories behind the store. Lin's wood industry has developed more than 1,000 products online, and the furniture experience halls in Beijing, Shenzhen and Foshan have also been launched.
Ma Canxing, deputy general manager of Lin's Wood Industry, said that after the furniture is produced from the factory, it needs to be transferred to the physical store through multi-level dealers and agents. The cost of warehousing, transportation and renting is attached to the goods, and the cost is at least Increase by 30%. The reporter learned from the experience hall that a set of ordinary sofas (renovation effect map), the online shop price of 4,000 yuan, but the same type, quality grades are equivalent, go to the physical store is 8,000 yuan, "the largest price of large pieces of furniture Discount, online shopping can reach 50%, and we also free shipping in Guangdong Province." Ma Canxing said.
The traditional industry of Shiwan Ceramics has a long history. The mosaic products that have emerged in recent years have attracted the attention of the 80s and 90s. In 2009, three young people took root in the establishment of a guppies mosaic online shop, which only displayed and sold products online. "We have more advantages than physical stores," said Wu Jinbiao, manager of the network department of the store. Since it is the first place to get a variety of new products, and can communicate with manufacturers and control quality in time, a mosaic is purchased online. Store purchases, the maximum difference can reach 50%. If you have quality problems in transportation, or take home and find that the color does not match, you can choose to return, the former is the freight by the merchant, this way of operation, so that their online store has accumulated a lot of popularity, become Taobao similar Product 2011 annual sales champion.
"After two years of preparation and preheating, Foshan e-commerce development has entered an outbreak period, and it is expected to be more popular next year." Liu Mingming, secretary general of Foshan E-Commerce Association, said that Foshan manufacturing enterprises are numerous, ceramics, furniture, home appliances and other industries are developing. The advantages of e-commerce are obvious.
Horizontal pop up a frame banner is one kind of folding display system ,it is for indoor and outdoor displays .
Available for four different size ,suitable for every promotion ,advertising activities .
Double sided customized graphic printing makes it obvious in outside & indoor .You can show your logo ,brand ,products and service on each side of the banner .It is easy to move and assemble without tools .And each Pop Up Banner packed with 600D fabric carry bag .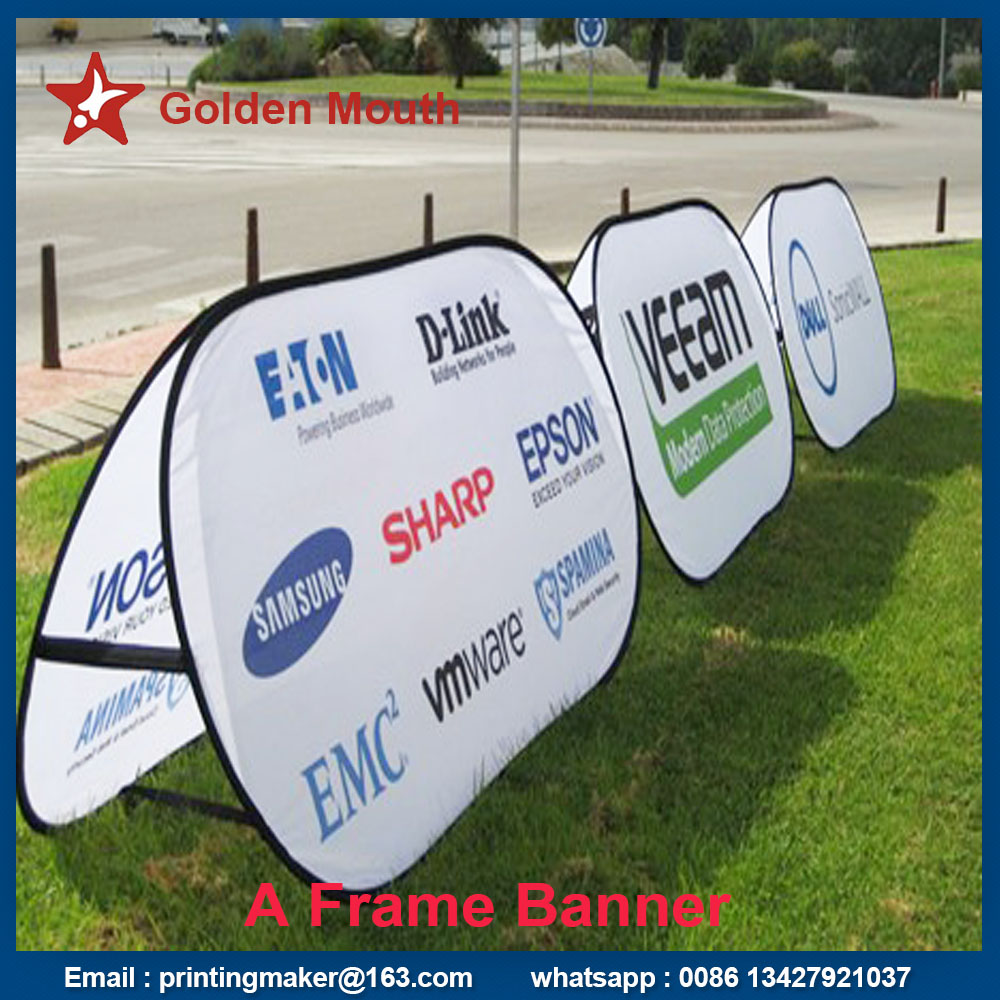 Quotation for our pop up a frame banner :
Horizontal Pop Up A- Frame Banner

Size

MOQ

Unit Price

(ex –factory)

Printing Tech

Packing size

Large :

100*200cm

1-10 pcs

USD28

Dye sublimation printing

42*35*42cm

10 pcs/carton

22kg /carton

Medium :

70*120cm

1-10 pcs

USD40

62*35*62cm

10 pcs/carton

26kg /carton

Small :

110*260cm

1-10 pcs

USD54

72*35*72cm

10 pcs/carton

37kg /carton
Horizontal Pop Up A- Frame Banner
Pop Up Display Banner,Banner Pop Up,Pop Up Display Banner
Golden Mouth Advertising (H.K)Co.,Ltd. ( Jie Da Advertisement Co.,Ltd) , https://www.advertisingflagbanners.com